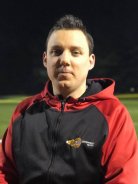 James Saunders is our Sports Rehab and Sports Massage expert. He is highly qualified and experienced having worked for Basketball England, Brentford Football Club and Headley Court's military rehab centre amongst other places. He has a BSc in Sports Exercise Science and a MSc in Sports Therapy. He is now based in the Kingston-upon-Thames in South-West London, using our massage room and gym facilities at the track at Kingsmeadow (KT1 3PB).
To book an appointment (see below for costs etc), please contact James at jamessaunders@momentumsports.co.uk
What will our help do for you?
The aim of the treatments is to aid in your recovery, relieve pain, tightness and treat niggles. The sessions utilise rehabilitation and treatment methods to optimise injury recovery and biomechanical screening and analysis to maintain and improve sports performance.
After an injury your body requires exercises and motions to allow your injured muscle, ligaments and tissues to heal properly. In many circumstances, we ignore our injury or pain and wait for things to get better in their own time. This can be detrimental to your health as our body is a biological organism which will adapt accordingly and potentially lead to prolonged injury or make you susceptible to re-injury or compensatory injuries and thus prevent you from competing to your full capacity.
Rehabilitation is key to optimise your recovery, strengthen the injured area and get you back to full fitness. The use of progressive loading through exercises helps promote optimal healing of the injury, and it can prevent delays in returning to normal due to joint and muscle tightness or muscle wastage (atrophy).
James can offer treatments to increase healing and prevent injuries via:
Injury diagnosis & assessment
Massage - Pre/post event, deep tissue, scar tissue breakdown.
Injury Rehabilitation - Increase flexibility, range of movement, balance, core strength
Myofascial release
Postural assessment and correction
Muscle re-education training
Spinal mobilisations- Treating back pain & stiffness
Bespoke training programs
Manual therapy- spine, joint and physiological
Taping -Kinesotaping, postural & supportive
Medical acupuncture
When and Where can you get treatment or a massage?
Momentum Sports has a room at Kingsmeadow Stadium, which James works out of and also if you need some gym work for your rehab he has access to use the free weights gym at the track. He is available a lot of the time during the week although Tuesday and Thursday evenings he is our track side rehab expert, helping athletes within the price of their training subs. Please contact him to arrange an appointment and find out precise availability:
jamessaunders@momentumsports.co.uk
The cost of treatment or massage is only £30 for 30mins or £50 for a whole hour. (There is even a discount on this for those who get their coaching from Momentum Sports of £10 / hour)
Initial sessions will normally be an hour in length so that a proper assessment the issues can be made.
NB. Payments can be made with a card, in cash or online to our bank account. Cancellations within 24 hours of an appointment will be charged at the full price.
We are also very lucky to have access to a second expert in Sports Massage, Vanessa Hammett, details of whose treatments can be found HERE