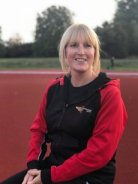 Vanessa Hammett is our Sport Masseur. She is highly qualified and experienced and works in the Kingston-upon-Thames area in South-West London, including using our massage room at the track at Kingsmeadow (KT1 3PB).
It is worth getting sports massages because of various factors which generally revolve around the loosening of muscles. This both reduces injury risk and improves performance.
Vanessa is also one of our experienced coaches helping a lot of our athletes this way, and therefore has a very wide knowledge of the sporting needs of athletes, all provided at very competitive rates. She is a fully qualified massuer with the London School of Sports Massage and has treated many of our top athletes, aiding them to produce their best results on the track, cross-country and roads.
When and Where can you get a sports massage?
Momentum Sports has a room at Kingsmeadow Stadium, which Vanessa massages out of. She is available a lot of the time during the week although Tuesday and Thursday evenings are generally unsuitable due to her coaching commitments. She does also do some sessions elsewhere. Please contact her to arrange an appointment and find out precise availability:
The cost of a massage is £30 for 30mins or £50 for a whole hour. (There is even a discount on this for those who get their coaching from Momentum Sports of £10 / session)
Initial sessions should be an hour in length so that a proper assessment can be made.
NB. Payments can be made with a cheque or in cash. Cancellations within 24 hours of an appointment will be charged at the full price.