Hurdle Sundays - Technique sessions
Come every week, or drop in from time to time
Improve your hurdling skills
Come every week, or drop in from time to time
We are holding coaching sessions on a Sunday every week for hurdlers at Kingsmeadow Stadium in Kingston (KT1 3PB). The aim of these sessions is to work on hurdle technique improvements, whether that be technique over the hurdles, take-off, starts, stride pattern or anything else. They will compliment other work you do in the week - whether that is with us or elsewhere on your own or with other coaches. If you have a coach, they are very welcome to join us for these sessions too.
Here at Momentum Sports we've helped hundreds of athletes to hurdle. From total beginners to elite performers, these session will have something for you.
Over the years we've had national age group champions, both in the junior and masters ranks and have coached the likes of Nicole Kendall, Kira Holt, Mae Thompson, Tom Parry, Pippa Earley, Alex Parkinson, Chris Hall, Laura Darcey and Simon Byway amongst many others. Head Coach, Richard Holt, was a British Champs finalist in 1995 and 4 times British Masters Champion at 400m hurdles.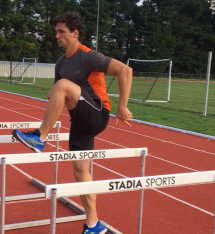 These sessions are for all abilities and age groups (from U13s upwards) and, depending on size, will be split based on the individual needs of athletes who attend.
The sessions will run from 11.00 to just after 12.15 on Sunday mornings
.

The cost will £15 per session, but with lots of discounts available. The price includes all the coaching and access to the track. You can subscribe to 3 months of sessions for £105 and we'll give a third of any of these prices for those currently doing their other training with Momentum Sports.

Please get in touch if you have any queries coaches@momentumsports.co.uk

To get you in the mood, here are a couple of short video with some drills and technique work. We have a lot more on offer in the sessions.