Momentum Sports Academy: Silver Athletes
Here are details of the elite athletes and their coach involved in the Momentum Sports Academy, looking to achieve exceptional results and qualify for national and international competitions.
Athlete and Group Coach
Richard Holt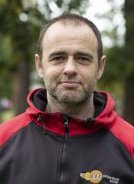 Primarily a coach these days (he's Head Coach for both Momentum Sports and Kingston and Poly AC, but still loving to compete, Richard has coached athletes in this group to British age group and British University (BUCS) titles and representative honours on regional, national and international levels, including European Junior Championships.
Richard was an English Schools Champion at 400m before going on to compete for Surrey, Sheffield University, the North and British Universities Teams at 400m hurdles as well as many years with the successful Blackheath and Bromley club. His biggest achievement was reaching the final of the GB World Championships Trials in 1995, whilst coaching himself and a group in Sheffield. Nowadays, he still competes and is four times British Champion at 400m hurdles in Masters age groups, ranking as high as 7th in the World in 2012. 2018 saw him compete at the World Master Championships in Malaga, narrowly missing out on a place in the final.
The Athletes
Tom Parry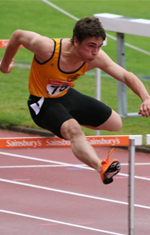 Tom was ranked 13th in the U17 UK rankings at 100m Hurdles and he represented the Surrey Schools team in the English Schools Athletics Championships from 2006-09. He won the Surrey County Championships, a silver medal at the South of England Championships and ran 13.54 for 100H in 2008. In the 2008 season he peaked in August, reaching the England Athletics U17 100m Hurdles final and winning on his debut in the British League for Kingston.
In 2009 he moved to 400m hurdles and reached the final of the English Schools in the first year in the age group. Despite a lot of injury troubles in the past couple of years, he has brought his 400mH PB down to 54.83 and has become Kingston's number 1 in that event.
In 2013 he finished 2nd in the Surrey Senior Men Decathlon Championships.
Alex Parkinson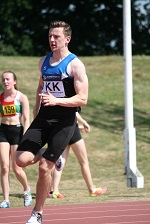 Alex Parkinson is a sprinter and sprint hurdles specialist. Having suffered from hamstring and achilles injuries for the last few years, 2019 was a successful year for Alex, ranking 13th U23 / 38th Overall in 2019 for the 110mH with 15.1/15.30.
Alex has been a member of K&P for over 8 years and attended the University of Birmingham where he competed in BUCS for the 60m, 110mH and both indoor and outdoor relays.
Alex also manages the Southern Athletics League team for K&P and a key member of the junior coaching team, Kestrel Club, for Momentum Sports.
Sam Ige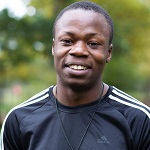 Sam is sprinter, specialising in the shorter sprints. Having made a big jump in performance in 2017, dropping his 100m and 200m times to 10.62 and 21.41 respectively that year, the last couple of seasons he has been going for more consistency, which indicates another breakthrough season could be soon.
Sam attended Swansea University, where he competed at BUCS over 60m, 100m and 200m, as well as U23 National Championships. Now in the senior ranks, he competes at the Brtish Championships, both indoor and outdoor, on a regular basis.
Sam is also a key member of the Kestrels Club coaching team, having been coaching Kestrels since 2016.
Tom White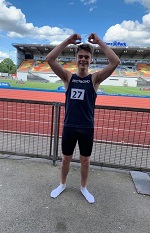 Tom started athletics back in 2012 at the young age of 9, and in that timespan until now, he has grown to be a key member of the Kingston and Poly team, competing every year pssible for K&P in the YDL.
2019 was a breakthrough year for Tom. He became the Middlesex School U17 100m champion, which allowed him to compete for Middlesex at English School individually at the 100m and as part of the Middlesex 4x100m U17 relay team.
Tom also lowered his sprint PBs for 100m and 200m to 10.97 and 22.92 respectively, which led to him being ranked 14th in the country for U17 100m. His hopes for the next few seasons are to get these times down and hopefuly add to the 10 K&P records he already has.
Laura Darcey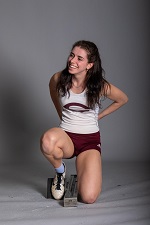 Having attended university in Chicago for the past 4 years, Laura has competed in the Pentathlon and Heptathlon, with success in the High Jump and Long Jump.
She became the 3rd highest score in NCAA Division III history in the Pentathlon this winter and is 12th in the overall UK rankings in the event. She also ranks 21st in the High Jump and 36th in the Long Jump. With her senior outdoor season cancelled due to the pandemic, she will be able to compete for one more year in the US while completing her Masters in Public Policy.
Kira Holt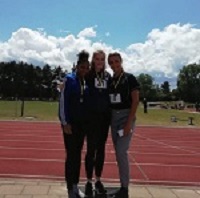 Kira was ranked 16th in the UK at 80mh as a first year U17. She has represented Surrey at the English Schools and narrowly missed out on the final as a first year. She was also a member of the Surrey U17W 4x100m team that came third in the final. As a first year U17 Kira also competed at the South of England championships, where she came fourth, and the national championships where she qualified for the final and came seventh.
In the 2020 indoor season she got bronze in the 60mH at the South of England championships. Kira has also won multiple individual Surrey titles - three Surrey championship gold's (one over 300mH) and two Surrey school golds.
She was also a part of the Kingston relay team that qualified to run at the Anniversary Games in 2019 and placed fourth.
Scott Evans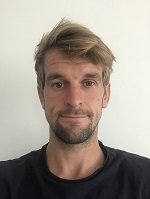 Scott is a middle/long distance runner, specialising in the 3000m steeplechase but having an event range from 800m to Cross Country.
Scott competed as a junior in both track and field and cross country, competing at English Schools for both. Now, he is a key member of the Kingston BAL team, boasting personal bests of 1:51.89, 3:53.14 and 9:23.8 for 800m, 1500m and 3000mSC respectively.
Scott is also a keen hockey player, playing for Surbiton Hockey Club.
Jack Dickson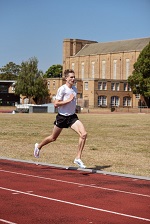 Jack is another middle distance athlete, with his main event being the 800m, but his range goes from 400m to 1500m.
Jack has been steadily improving over the last 4 years, with his PBs in 2017 being 53.78, 2:04 and 4:28.7 to his current PBs set in 2020 of 49.38, 1:52.86 and 3:57.89 for 400m, 800m and 1500m respectively.
As a result of this rise, Jack will be heading to to America for his university education, with Colorado State Unversity-Pueblo. The move to America will hopefully help Jack to make another big step in his athletics career, with his aim to compete at the international level.
Pat Logan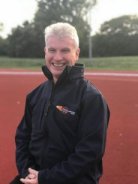 Pat is another part of the sprint contingent here, with his specialist events being the 60m and 100m.
I think it will be safe to say that Pat is a mainstay of British Masters Athletics! Pat has won multiple medals at British Masters Championships, both indoor and outdoors, across the 60m, 100m and 200m events! Pat has also competed and won medals at both the European and World Masters level. This has undoubtedly given Pat fame as a championship runner, with the uncanny ability to produce PBs/SBs in races when it counts the most!
Pat is probably known more in Momentum Sports for being the Lead Coach of the Kestrel Club, which is our main training set up for our younger athletes. Have a look here for more details.
Group Sports Masseur
Vanessa Hammett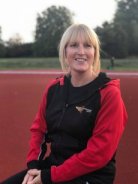 Vanessa was formerly a 62 second 400m hurdler who has been coaching with Momentum Sports for a number of years, leading our Junior Performance Middle Distance group. Back in 2009 she took the London School of Sports Massage's intensive training course and is now a very important part of the Momentum Academy team, as well as continuing to coach many of the younger stars of tomorrow in her group. All athletes in the Silver Academy get free massages with Vanessa on a regular basis.