Momentum Sports Academy: Silver Athletes
Here are details of the elite athletes and their coach involved in the Momentum Sports Academy, looking to achieve exceptional results and qualify for national and international competitions (age is given in brackets).
The Academy follows on from Project 2012. To see details of how the group progressed from 2010-2012, go to 2012 Project 2012 Season, 2011 Project 2012 Season or 2010 Project 2012 Season.
Athlete and Group Coach
Richard Holt (43)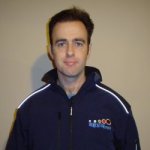 Richard was an English Schools Champion at 400m before going on to compete for Surrey, Sheffield University, the North and British Universities Teams at 400m hurdles as well as many years with the successful Blackheath and Bromley club. His biggest achievement was reaching the final of the GB World Championships Trials in 1995, whilst coaching himself and a group in Sheffield.
Now in the V40 age category, Richard was ranked 7th in the world for the 400m Hurdles in that age group in 2012; he also won a Silver Medal in the British Masters Championships for that event. Currently ranked 12th in the All-Time UK rankings for V40 Richard will be hoping to break into the top 5 for his age group in the coming years, as well as working his hardest to help his athletes fulfill their potential.
The Athletes
Chris Hall (26)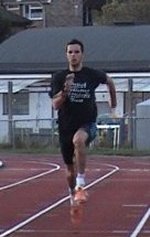 Chris is a sprinter who has run and jumped for Wales, competed in the England Athletics U23 Open Championships, qualified for British Universities finals and has been a regular team member of Kingston A.C. and Polytechnic Harriers' British Athletics League team for many years, performing in a range of jumps, sprints and hurdles. He was the Welsh 110m Hurdle champion for 2013.
Having previouly found success in the 200m and 400m, with personal bests of 22.25 (22.04 wind-assisted) and 49.83 respectively, his best performances have come in the past year. In 2014 his Long Jump personal best reached the top 70 in the UK, and he found success in a relatively new event by reaching the top 80 in the UK for the 110m Hurdles.


Tom Parry (22)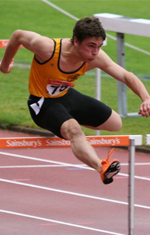 Tom was ranked 13th in the U17 UK rankings at 100m Hurdles and he represented the Surrey Schools team in the English Schools Athletics Championships from 2006-09. He won the Surrey County Championships, a silver medal at the South of England Championships and ran 13.54 for 100H in 2008. In the 2008 season he peaked in August, reaching the England Athletics U17 100m Hurdles final and winning on his debut in the British League for Kingston.
In 2009 he moved to 400m hurdles and reached the final of the English Schools in the first year in the age group. Despite a lot of injury troubles in the past couple of years, he has brought his 400mH PB down to 54.83 and has become Kingston's number 1 in that event.
In 2013 he finished 2nd in the Surrey Senior Men Decathlon Championships.

Mae Thompson (18)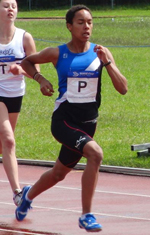 2012 was a breakthrough year for Mae, as she really came into her own in the 200m and 300m/400m Hurdles, and didn't fail to finish in the top 3 in any of her track races! For the 400mH, she was ranked 110th overall in the UK Women's standings for 2012 despite only being 16, and she was ranked 12th in her age group for that event.
This success continued into 2014 where she ranked 9th in the UK at U20 and 31st overall. She finished 2nd in the English Schools Championships at 400m hurdles.
Now one of Kingston and Poly's most influential female athletes, and one of their highest point scorers, Mae will be hoping to build upon the success of the past couple of years to help establish herself as one of Surrey's top women hurdlers.

Phoebe Law (17)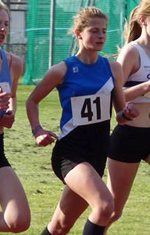 Phoebe is the youngest member of the Momentum Academy. She has gone from strength to strength in recent years having finished 4th in the English School Championships for 1500m and has been Surrey Schools and Clubs champion for 2 years running. She has competed strongly for Kingston and Polytechnic Harriers over the years, particularly in the very strong Lily B team.
As of 2014 she is ranked 9th in the UK U20 1500m, with another 2 years left competing in the age group.
Phoebe is also a dominant force in Cross Country, having won both the Surrey Clubs and Schools championship, and representing the latter in the English Schools Cross Country championships in 2014.

Layla Thompson (18)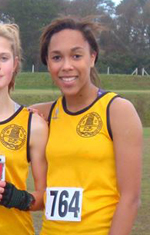 Joining the Momentum Academy with her sister, Layla became the Surrey U20 Champion for 1500m Steeplechase in 2014 and finished the season ranked 26th in the UK at U20.
Bob Lewis (53)
After becoming a World Champion in 2012 - helping Great Britain win gold in the 4x200m during the World Masters Championships, in which he also narrowly missed out on a medal in the 400m. March also saw him win the British Masters Indoor title in the 400m, but injury problems curtailed his outdoor season. After an operation, Bob is well on the road to recovery and he will be looking to establish himself firmly as one of Britain's great Masters runners of recent times.
Laura Darcey (16)
Laura has been heavily involved in K&P for the past 4 years as a multi-eventer, competing in just about any event she is needed. Being ranked 19th in the U17 women's Pentathlon and 20th in the U17 women's heptathlon, her best individual event comes in the form of high jump where she is ranked 22nd in the U17 women's category. With the Surrey U17 Combined Events Gold under her belt, she promises the potential to be an incredibly successful athlete in her first season at U20 women's level.
Nicole Kendall (18)
Nicole has also been a prominent member of the K&P female team for the past 5 years. Nicole covers all of the sprint events and has occasionally covered the hurdle events. In 2014 she achieved silver in the Surrey Championships for both 200m and 400m. She also reached the final of the South of England Inter County Championships as well as competing successfully in all Youth Development League matches.
Group Sports Masseur
Vanessa Hammett
Vanessa was formerly a 62 second 400m hurdler who has been coaching with Momentum Sports for a number of years. Back in 2009 she took the London School of Sports Massage's intensive training course and is now a very important part of the Project 2012 team, as well as continuing to coach many of the younger stars of tomorrow in her group, which has been proving itself very successful.