Momentum Sports Academy: Silver Athletes
Here are details of the elite athletes and their coach involved in the Momentum Sports Academy, looking to achieve exceptional results and qualify for national and international competitions.
Athlete and Group Coach
Richard Holt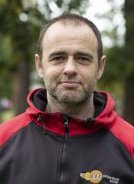 Primarily a coach these days (he's Head Coach for both Momentum Sports and Kingston and Poly AC, but still loving to compete, Richard has coached athletes in this group to British age group and British University (BUCS) titles and representative honours on regional, national and international levels, including European Junior Championships.
Richard was an English Schools Champion at 400m before going on to compete for Surrey, Sheffield University, the North and British Universities Teams at 400m hurdles as well as many years with the successful Blackheath and Bromley club. His biggest achievement was reaching the final of the GB World Championships Trials in 1995, whilst coaching himself and a group in Sheffield. Nowadays, he still competes and is four times British Champion at 400m hurdles in Masters age groups, ranking as high as 7th in the World in 2012. 2018 saw him compete at the World Master Championships in Malaga, narrowly missing out on a place in the final.
The Athletes
Tom Parry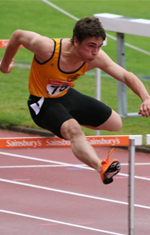 Tom was ranked 13th in the U17 UK rankings at 100m Hurdles and he represented the Surrey Schools team in the English Schools Athletics Championships from 2006-09. He won the Surrey County Championships, a silver medal at the South of England Championships and ran 13.54 for 100H in 2008. In the 2008 season he peaked in August, reaching the England Athletics U17 100m Hurdles final and winning on his debut in the British League for Kingston.
In 2009 he moved to 400m hurdles and reached the final of the English Schools in the first year in the age group. Despite a lot of injury troubles in the past couple of years, he has brought his 400mH PB down to 54.83 and has become Kingston's number 1 in that event.
In 2013 he finished 2nd in the Surrey Senior Men Decathlon Championships.
Group Sports Masseur
Vanessa Hammett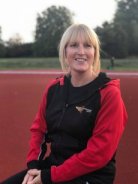 Vanessa was formerly a 62 second 400m hurdler who has been coaching with Momentum Sports for a number of years, leading our Junior Performance Middle Distance group. Back in 2009 she took the London School of Sports Massage's intensive training course and is now a very important part of the Momentum Academy team, as well as continuing to coach many of the younger stars of tomorrow in her group. All athletes in the Silver Academy get free massages with Vanessa on a regular basis.