Project 2012 Athletes
Here are details of the elite athletes and their coach involved in Momentum Sport Project 2012, looking to achieve exceptional results in time for the London Olympics in 2012.
To see details of how the group has progressed in the last 3 years, go to 2011 Project 2012 Season, 2010 Project 2012 Season or 2009 Project 2012 Season.
The Athletes
Chris Hall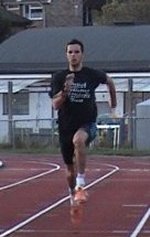 Chris is a sprinter who has run and jumped for Wales, competed in the England Athletics U23 Open Championships, qualified for British Universities finals and has been a regular team member of Kingston A.C. and Polytechnic Harriers' British Athletics League team for several years, performing in a range of jumps, sprints and hurdles. He has also been Surrey County Triple Jump champion.
200m is his best event having run 22.25 (and a wind assisted 22.04), as well as 49.83 for 400m. Chris's training is sure to reap the success he deserves in years to come when he competes for his Club, University, County and Country.
Humphrey Waddington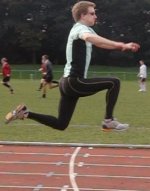 In his first two seasons as a triple jumper, Humphrey has rose to 21st on the UK rankings, with a 15.03pb and been invited to the UK Challenge Final for TJ after coming 8th in the UK Athletics merit rankings. He scored points in the BUSA Long and Triple Jump finals and qualified for the England Athletics U23 Open Championships in June 2009.
A former UK Sportshall Champion, Cambridge Blue and Men's Team Captain for Kingston and Poly, Humphrey is national level competitor who is just returning to fitness after an operation on his ankle. Although not entirely happy with recent competitions, it is great to see Humphrey jumping again and already in excess of 14 metres.
Tom Parry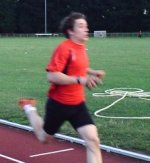 Tom was ranked 13th in the U17 UK rankings at 100m Hurdles and he represented the Surrey Schools team in the English Schools Athletics Championships from 2007-09. He won the Surrey County Championships, a silver medal at the recent South of England Championships and has run 13.54 for 100H in 2008. In 2008 season peaked in August reaching the England Athletics U17 100m Hurdles final and making his debut in the British League for Kingston winning the 400m hurdles B string in 58.28.
In 2009 he moved to 400m hurdles and reached the final of the English Schools in the first year in the age group. With a Pb of 55.35 he shows great potential for the future.
Tom trains hard and always wants to run faster – with this attitude he is sure to keep breaking his personal bests and to overcome an injury sustained in his last ever rugby match, which he is currently rehabilitating from.
Craig Price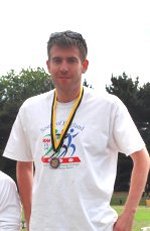 Craig is a former Surrey Champion at 1500m and ran a fast 1.54.55 for 800m, when he was just 18. After taking a couple of years out from the sport, Craig has returned to the track with a burning desire to regain the form that took him to a national ranking in 2005, and after a reasonable season in 2009 started with indoor Pbs in both the 800m and 1500m of 1.57 and 4.03. Much is expected of Craig over the coming two seasons as he looks to be the top middle distance runner in the Kingston area.
Despite and injury hit winter, 2011 has started well for Craig with a huge Pb in the 3000m (9.07) and gold medal at the Surrey Senior 800m. Continued work over the summer should see him establish himself as a significant force in the middle distance events.
Molly Renfer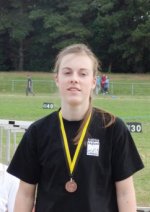 Molly made fantastic progress in 2010 and as a result has joined the Project 2012 group. She has taken her 800m Pb from 2.17.73 to 2.10.91 already and has qualified to run at the English Schools. She has also run pbs at 200m and 400m (27.0 and 58.51) and has run a great time of 56.3 in a 4x400m relay leg.
2011 has started well with a 2.12 for 800m indoors and Pbs outdoors in the first few weeks of 2011 at 200m and 400m (26.7 and 56.85)


Lana Whatley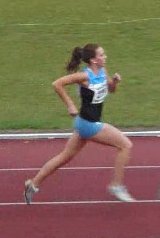 Lana is the top 400m hurdler that Kingston & Poly have currently. She has already broken her Pb for 400m, 100 hurdles and 400m hurdles in 2011 and is looking for a lot more by the end of the summer, hopefully ranking inside the top 100 in the country for two of these events







Andy Robinson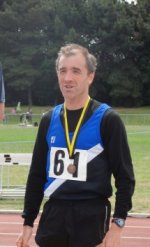 Formerly a high ranking 3000m steeplechaser in the 1980s, Andy is now 45 and despite his age came third in the recent Surrey County Senior Championships over 5000m with 15.36 (which would have made him number 2 in his age group last year). He has also run very close to 9minutes for 3k and should go under this barrier very soon. His performance by the end of the should merit a place in the top 10 in the world in his age group in up to 4 events.
Project 2012 Academy
The athletes who currently a just below the level of the athletes above, but are looking to achieve significant performance in the next few years are George Corcoran, Maddy Hardwick, Isabelle Hatton, Gaby Miles, Ali Kokaz and Richard Smeaton
Group Coach
Richard Holt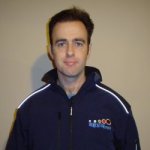 Richard was an English Schools Champion at 400m before going on to compete for Surrey, Sheffield University , the North and British Universities Teams at 400m hurdles as well as many years with the successful Blackheath and Bromley club. His biggest achievement was reaching the final of the GB World Championships Trials in 1995, whilst coaching himself and a group in Sheffield.
Illness from 1997-2000 curtailed his ambition to compete at the top level, but he continued coaching and has coached many athletes at all levels over 15 years. His current crop is the strongest yet and should achieve considerable success over the next few seasons.
Group Sports Masseur
Vanessa Hammett
Vanessa was formerly a 62 second 400m hurdler who has been coaching with Momentum Sports for a number of years. Back in 2009 she took the London School of Sports Massage's intensive training course and is now a very important part of the Project 2012 team, as well as continuing to coach many of the younger stars of tomorrow in her group, which has been proving itself very successful.