Choosing the Best Running Socks
Hilly Mono Skin Padded Training Socks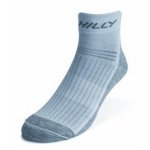 These sockcs are cushioning running socks. They are highly technical and add a great extra layer of padding and ventilation to provide additional comfort.
Cushioned training sock.
Resilient Meraklon® cushioning wicks away moisture and provides shock absorption. (£7.99)
The Hilly Twin Skin Socklet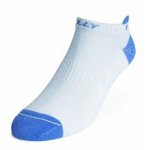 These running socks offers the same amazing moisture management and anti-blister features of the slightly longer anklet socks.
The key difference is that the socklets just sit above the anklet and roughly above the back of the shoe for a more discreet fit. (£7.99)
1000 Mile Compression Tight Sock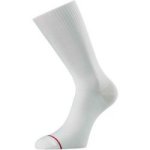 Reduces the build up of lactic acid, accelerating blood circulation and preventing muscle oscillation , this sock minimises muscle fatigue and soreness. This enables faster muscle recovery after exercise or injury. (£12.99)
1000 Mile Original Sock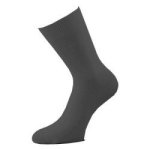 This is original two layer running sock, which helps to prevent blisters. (£7.99)
Nike Dri-Fit Socks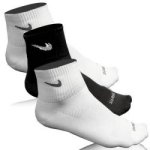 Lightweight and breathable technical running socks with excellent wicking properties and superb comfort. Pack of 2. Dri-Fit technical fabric keeps the feet cool and dry. (£8.99)
Inovat8 Mudsoc 36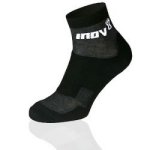 This anatomically designed sock is developed and tested to provide the ultimate in off road running and comfort and performance. A great sock. Coolmax fabric is fast wicking and quick drying. Padded areas provide additional comfort and protection (£7.19)
Falke RU4 Invisible Running Sock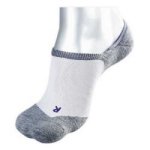 Designed for left an right feet giving the perfect fit. Climate control - double layer construction that keeps feet dry. Support - optimum protection and cushioning. (£6.99)
Learn more / further reading