Lucy MacAlister Marathon Blog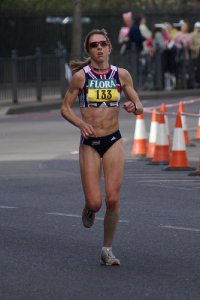 The following is a blog by Lucy MacAlister, one of the top marathon runners in the UK, describing her attempt to run at the London Olympics in 2012, just two years after the birth of her first child.
We hope this will be an entertaining and informative read and provide inspiration to lots of runners out there looking to achieve their goals.
If you would like to leave a comment or word of encouragement for Lucy, please e-mail her at lucymacalister@momentumsports.co.uk.
26th April 2011
Well practise makes perfect and I had rehearsed in the run up to Brighton marathon pace in the rain, the wind, the cold and even deep snow back in January but the one condition I had not rehearsed in was 22 degrees in the shade with no wind!
As many of you may know runners tummy trouble is not unusual but most of the time people develop their own strategy to avoid problems. For me eating 4 hours before racing and going for a jog straight after on race day morning normally does the trick! I also like to avoid drinking during training or racing until the 2hr mark to avoid issues. However by 9am on race day it was clear that fluid intake in the first half was going to be required as the temperatures started to rise.
In retrospect this is where my problems started and whilst my heart, lungs and legs cruised through half way in 77 mins as planned my tummy was already starting to warn me that the aptly named Road to Hell in the Second half risked becoming just that!
I am grateful to my pacemaker Dave Alcock for keeping me on pace to 16 miles as it would have been a lonlier race otherwise! However without his heels to follow and with the tummy trouble that got me three times in the last ten mile you y 2h35 target rapidly disappeared as finishing became my target! It never ceases to amaze me how much can happen in the second half of a marathon that you could truly not imagine and I am pleased I give it the respect it deserves! The little things like hills using up stored glycogen quickly, heat meaning you take on more fluid than planned can come together to disastrous consequences! It was heartening to see that in London this year as every year seasoned pros still manage to hit the wall in the second half as I did in Brighton! So it became a mental marathon in the end finishing in 2h40 and with huge crowd support in the last few miles along the seafront towards the pier.
And just as those little pieces of the jigsaw in hte race are important I've identified a few more pieces to rearrange in my traning and diet for next time (there will always be a next time!). The smallest things really do matter in preparation and during the race in the marathon as it truly is a beast that deserves the renewed respect that I owe it! I hope you manage to tame the beast in your
Spring marathon experiences and hit the Personal bests that you deserve!
--------------------------------------------------------
22nd March 2011
Roman Bath and Ice Bath...
I am delighted to report to female runners reading this that having a baby does not have to slow you down! Two weekends ago I managed to run a PB at the Bath Half Marathon in 73:42 (previously 74:23) despite feeling very much in Mum mode rather than athlete mode feeding Ella an hour before the start when rivals from Kenya were doing a more traditional warm up routine.
However backing off in my last two Sunday runs that I have typically hammered has clearly paid off leaving me fresh enough to hold steady splits over the two lap course and concentrate enough not to let things slip in the last three miles. This time I tried the method called 'externalisation and internalisation' in sports psychology where you alternate concentrating your thoughts on external factors - the gradient, pack in front. mile markers etc and then internal factors - how relaxed you are feeling, how strong your legs feel (all positve is the general idea!). The theory is that alternating between focussing on whats happening outside and inside prevents you getting into a negative thoughts spiral that can so often creep in if things aren't going to plan. Try it!
I've also benefited from replacing my hill sessions with track sessions to get some speed in my legs with tempo, track, tempo being my thing - 12 mins at marathon pace then 16 x 400 or 8 x 800 off 100 or 200 jog followed by 12 mins tempo. Keeps you mentailly and physically sharp and prevents those slow twitch fibres getting too slow! It was my first and last 2hr45 time on feet run on Sunday was followed by an ice bath lovingly prepared by my husband - people ask which is harder - giving birth or marathon running but I remember thinking on Sunday that at least giving birth I got to sit in a warm bath of water. The ice bath alone sometimes has me screaming for gas and air. I will next week get into the taper zone - from 85-90 miles I will drop down to 70-80 three weeks out, 60 two weeks out and 30 the week of Brighton Marathon. Same no of sessions but dropping the volume.
I will race this coming weekend at Hastings at marathon pace - not much choice given the ridiculous 2 mile steep hill in the middle of the race - and then may put a 10k race in after a 10k steady two weeks out from race day. I like to get my racing head on regularly as I am then relaxed pre race on the day having done it several times over in the weeks before. Tummy trouble is forcing me to look carefully at my pre run diet and make some adjustments which I am tweaking daily to make sure I've got exactly the right combo of pre race drinks and food sorted for the day. Meanwhile Ella has decided that she can nearly make it through the night with just one midnight feast not three which is helping the sleep deprivation and my new sponsors Saucony are delivering me some fabulous new kit this week. I have been wearing in their superb FastTwitch racer trainer that I will race Hastings in ahead of Brighton this weekend.
I hope everyone's marathon prep is going well and I shall be trying to execute my own advice this far out which is that it is a very fine line between being very fit or injured or ill in the run up to a marathon so better in the last few weeks to back off rather than battle through in order to make it to race day in one piece! I will endeavour to do a pre and post Brighton blog for those who are interested. And you'll have to wait til the post Brighton update to find out if running a marathon or giving birth is harder once I've reminded myself about the former.
--------------------------------------------------------
23rd February 2011
Older and wiser goes the saying....and yet however many 'running' years I have under my bellt I am still learning from my mistakes! And recently with the distraction of a much more mobile Ella to feed and water during the day it has emerged that she was probably better nutritionally prepared for our morning workouts than I have been!
It seems I have been able to nail my first challenge of combining motherhood with being a full time athlete which was to run 70-90 miles a week consistently. However after four weeks back in full training my failure to address my own hydration and nutrition adequately whilst racing and training hard has resulted in a tough week of heavy legs and the longest long run to date. But this is what I love about running - it is so pure that you get out of it exactly what you put in. And if that is snacking on whatever is to hand whenever a 10 month old happens to be sat down to eat and not having your own bottle to hand when she has hers then it soon finds you out!
So racing twice in one weekend is not something you'd want to do often but after a fabulous true cross country course on home turf for the last Surrey League, and being pleased with an individual and team victory rushing back to takeover the childcare relay for my husband to race I omitted any kind of fast glycogen replenishment to my peril. The window for optimum glycogen (stored carbohydrate) replenishment is as short as 20 mins post exercise! Well the next day I paid the price at the Wokingham Half Marathon in the last 3 miles after hitting a PB for 10 and thinking I'd got away with it!
I finished 2nd to Liz Yelling but unlike Liz did not get a fuel pack on and head off for 8 more miles but managed a v slow warm down in the rain! A fairly gruelling week followed as despite refuelling better after the Half once glycogen depletion has occured the effects stay in the legs for days to follow! In fact last weekends Sunday run was definitely 'time on feet' rather than 'marathon pace' rehearsal as a resutl! However it has been sufficient a kick up the backside for me to realise that now I am back to full training I need to be back to full lifestyle adjustments and this week the cupboards are full of my drinks and drinks bottles as well as Ellas, and the nappy bag is full of my snacks as well as hers! I am also keeping a food diary and experimenting with my pre marathon breakfast and soon gels and carb drink on our morning 'recovery' runs with the buggy. So please learn from my foolish mistakes and ensure that those of you who are in marathon build up do not get so focussed on the training that you forget to also eat and drink like an athlete in the 22 hours that you are not in your trainers! I am already feeling the benefits in a matter of days - had a great workout last night on the roads and looking forward to completing a quality week ahead of a lighter week next week pre Bath Half Marathon.
As for now - its tea time for the both of us!
--------------------------------------------------------
28th January 2011
After an unspectacular start to 2011 January has taken a turn for the better running wise that has coincided with the improved weather for getting out in the dark evenings! I hope I'm not alone in finally seeing some improvement after a few tough weeks of training in inclement conditions!
Mid January saw a return to the mud for the Surrey League Womens First Division Cross Country at Ham where I found myself in a head to head with another new Mum and former international Natalie Harvey from South London Harriers. Not known for my turn of speed I was pleased to hold onto first place in the finishing straight and am pretty sure the spin classes and turbo training on the bike are to thank for some surprise leg speed. Its all relative though and leg speed is certainly something I need to work on so despite the fact I am in marathon training I will shortly move from hill reps to 400 reps midweek and continue to blast the Park Run 5k's on Saturdays as part of a longer session.
Which brings me to last week when I was delighted to run a 22s PB on the Richmond Park Park Run finishing in 17.15 only to remember that it was the first part of a three part Saturday training session! Its encouraging to find the body responding quickly to being back in full training and to feel stronger and stronger on these time trials. Its a fantastic opportunity to run in a group and have some great competition from the leading men. My Saturday sessions are heading towards the type of session we would do with the legendary Frank Horwill at Battersea and I try to replicate these with a mixture of threshold running and hills lasting approximately 90 mins as I have found this strength and endurance invaluable. Last Sat I ran 8 1 min hill reps after the 5k then the 5k course backwards in 17.18.
Sunday runs continue to be a double whammy for me - they are both my long runs - now 18 miles and I will bring these to 24 miles about 6 weeks out from Brighton, as well as my marathon pace running for 10 miles in the middle where with the Thames Hare and Hounds we normally hit 6 minute miling before too long on a Sunday morning. A 'steady' pace for most of the men running but a tough workout for me helped hugely by running as part of a pack of talented marathoners!
The Surrey League weekend was also a chance to train on the marathon course at Brighton on the training weekend hosted by the Brighton Marathon and Richard Nerukar (5th in the Atlanta Olympic marathon in 2h13) and featuring a seminar on the role of the long tempo run and an interview with Dan Robinson (GB Olympian Marathoner 2004 and 2008).
This was followed on the Sunday by a paced 20k tempo run with the objective of the last 2k being the fastest and in fact in our group we managed to increase the pace every 5k up and down the seafront consistently to provide a superb workout that certainly should form part of a marathon training diary every couple of weeks.
So after a good couple of weeks I am feeling stronger and faster and hope that this conitnues through a week away in Portugal and pays off in the half marathon I have scheduled for mid Feb. This will be a good indicator of where I am in the build up.
The warmer weather has meant Ella has been an invaluable training partner in the running buggy of late enabling me to get in second runs and up to 70 plus miles a week as well as accompanying me to Brighton (inevitably she had enough kit for two weeks and I forgot running socks, running watch, and a few other essentials for myself!), although her increased mobility has meant her 'helping' with my strength sessions are a thing of the past!
I've been enjoying reading Kara Goucher's blog on combining being a Mum with a professional athlete faced with continual challenges juggling the little ones sleepless nights, various bugs and erratic weather conditions! Worth a look!
Happy running for the rest of January.
--------------------------------------------------------
10th January 2011
I don't know about you but Christmas was definitely a challenge for getting in the miles! We were in Somerset where the only option was to wear long spikes and run in the middle of the road where there was snow rather than compacted ice and after a non running related fall on the ice I opted for the stationary bike instead! The 10k I had planned for Boxing Day was cancelled for the first time in 26 years!
However, as ever I have such faith in cross training and since being back in London have been pleased with how the new schedule is going combining turbo training during Ellas sleeps in the day with running in a babysitting relay with other Mums or in the evenings when my husband gets back from work. I won't be getting in much more than 50 miles a week running but reckon on the equivalent of another 20-30 by cross training on the bike. Its great for max heart rate work outs and whilst its working different muscles also allows for faster recovery than running.
The Sunday runs with Thames Hare and Hounds remain key and this week I did the Richmond Park time trial as part of my Sat session in 17:50 before hills. Looking forward to it warming up enough to get out with the running buggy before long!
Happy running!
--------------------------------------------------------
21st December 2010
As some of you who I have had the pleasure of coaching recently may know I have decided to take the exciting step of becoming a full time athlete (and Mum of course) in 2011 in order to train for the Olympic qualifying race for the marathon in April 2012. I will therefore not be returning to work as a Biology Teacher in March and I will take a break from coaching with Momentum Sports to enable me to have time to train in the evenings when I have my hands free and can escape without the running buggy!
My Personal Best of 2:36:26 is 8 minutes short of the qualifying time of 2:29 and I ran it in 2008 in Austin Texas. I cannot sustain especially high mileage by Radcliffe standards (I would normally average 80 miles a week compared to her 120!) as am fairly injury prone but am convinced that with more time for conditioning and treatment and more sleep than when I was working full time that there is plenty of fast running in the bank!
Some of this will be done with the running buggy (when temperatures return to over zero), some with my club - Thames Hare and Hounds, and most of it in Richmond Park on the doorstep. I will also combine as usual running with cross training on the bike (turbo training) and in the pool (aquarunning).
I hope that this blog might be of interest for those who are also setting themselves ambitious goals for 2011or simply enjoy reading about the life of a long distance runner, firt time mum and local athlete and the trials and tribulations this involves.