Jesse Owens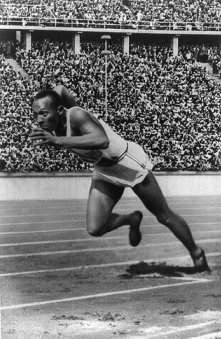 Jesse Owens is often merited with having achieved the single greatest athletic achievement of all time, and many would say he did it twice!
He is most famous for winning 4 gold medals at the Berlin Olympics in 1936 at the height of Nazi power, under the nose of Hitler, at a time when the aim of the Aryan state was to prove its supremacy over all other races.
He won the 100m, 200m, Long Jump and 4x100m, with new Olympic records in all bar one of these.
Jesse Owens' other truly great achievement was the setting of three world records in the course of 45 minutes, having already equalled the 100 yards dash record. He broke the world records in the long jump, 220 yards and 220 yard hurdles events.
In a gesture of confidence in the long jump, prior to taking his leap he put a hankerchief in the sand at the distance of the world record and proceeded to clear it by 6 inches!
Despite his huge achievements on the track and the blow to Hitler's regime in Berlin, it was not the Nazi values of Germany that made Jesse Owens feel let down, but the continuing segregation in his own country.
Jesse never received a word of congratulations from President Roosevelt and at his own ticker tape parade was made to enter the hotel via the back entrance as the front one was for whites only.
When competing for Ohio State University, he was not permitted to eat in the same restaurants, or sleep in the same hotels as his white colleagues.
After the Olympics he was forced to "perform" by racing dogs / horses and motorbikes to get an income to survive on as he didn't receive any endorsements at all.
He finally received Presidential acclaim in 1976 with the Presidential Medal of Freedom from Gerald Ford and posthumously (having died in 1980) from President Bush in 1990 he got the Congressional Gold Medal.
Athletes