Club Watch
Here we will be profiling a different club every month to show you that there are plenty of options and opportunities out there for you to pursue your running in a friendly and productive atmosphere.
KINGSTON AC & POLYTECHNIC HARRIERS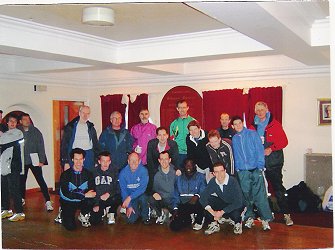 The club offers competition and coaching to all levels, from the burgeoning WhizzKids for youngsters for as young as five years old through to the equally successful veterans teams, all for both men and women.
The club competes in area and local leagues including British Athletics League, Southern Mens, Southern Womens, National Young Athletes, Rosenheim, Lily B, Ebbisham and Southern Veterans with varying degrees of success but with enjoyment and healthy rivalry as equal goals.
Also on the competitive agenda are the raucous Sportshall Leagues and the County Cross Country Leagues, and the Downs League for youngsters in the winter. An early season Open Graded Meeting and the famous Kinnaird and Sward Trophies fixture figure prominently on the list of ventures.
David Barrington would be please to hear from you davidrbarrington@talk21.com
Kingston & Polytechnic's men's athletics team is looking for strong middle-distance runners for next season. K&P compete in National Division 3 of the British Athletics League. The club narrowly missed out on promotion this year, despite dominating the field events and doing well in the sprints. A lack of competitive middle-distance athletes cost the club a place in Division 2.
Club secretary and team manager David Barrington said: "We gave enormous commitment and some enervating performances, but it wasn't quite enough. "Our aim for next season is to win the division. We need to find some strong middle-distance runners. "The times we are looking for are sub-1.58 for 800m, sub-4.05 for 1,500m, sub-16.00 for 5k, and sub-10.00 for the 3k steeplechase."
Any runners meeting these requirements and interested in joining the club should e-mail Peter & Humphrey Waddington.