Momentum Sports Company Information
Momentum Sports is a sports company focusing on running. We aim to provide a full range of services for athletes from professional online coaching, by a team of fully qualified coaches, to the location of running services you might need, to a free encyclopaedia of running knowledge. These facilities are designed to help you get the most from your sport, all via one website.
Basically, we live, breathe and eat running!


Online Coaching
The online coaching is interactive with sessions being set for each individual in training, who will report back on what they have achieved. These results will be used as the basis for the setting of the following training sessions. Whilst this may not be the same as having a coach constantly present at your sessions, it provides the individual access to a wealth of knowledge from a group of qualified professional athletes and coaches who are setting a schedule designed specifically for you.
Running Directory
The directory service provides a listing of services available to runners. These come under a variety of headings and if you feel there is a service that others should know about please let us know by filling in the questionnaire supplied. Subscription is free for non-profit organisations, whilst businesses need to pay a small subscription for inclusion. However, if a business wishes to test our service, and discover the number of customers we can provide them, a 3 month free trial period is available.
Running Training Information
As well as the online coaching there is an encyclopaedia of information aimed at helping you to train more effectively. This is provided in the form of words, pictures and videos, with help on the following topics, amongst many others - stretching, weights, circuits, nutrition and race preparation in addition to dozens of pages on running training. We also include sections on all the kit you will need to make your running experience as good as it can be.
Contact Details
Address:
Momentum Sports
116 The Street
Tongham
Farnham
Surrey
GU10 1AA
Phone Number: 07799 194069
Contributors
Richard Holt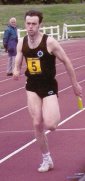 Richard Holt started Momentum Sports in 2000 and seen it grow from a "one man band" to a large team of coaches and athletes over the years. He is a 400m hurdler, who was a AAAs finalist in 1995 and has been coaching athletes with a wide range of abilities since 1993. He is a fully qualified UK:Athletics coach in both sprints and endurance with experience of coaching all levels from total beginner to international level.
Richard is one of the Runners World and Mens Fitness magazines Expert Coaches, providing advice to their readers on various aspects of running training and racing.
As well as running a large group of athletes at Kingston in London he has been Head Coach of numerous Star:Track and Active Surrey athletics programmes since 2001 as well as being sprints and hurdles coach for top independent school, St. Pauls.
If you are interested in maybe joining his group at Kingsmeadow Stadium, Kingston please click here. There is usually space in the group, which is normally split into 2 or 3 groups for each session to allow people to train with athletes of their own ability.
Coaching Team
The following coaches make up the senior coaching staff for Momentum Sports, all run groups at the track, with some also coaching athletes online
Vanessa Hammett
Was one of the top 400m hurdlers in the country. Having had a break from the sport, she returned several years ago to coach athletes, particularly youngsters, and has brought a wealth of experience and enthausiasm to help the athletes in her charge. She also coaches a good number of our online athletes
John Shepherd
John was an international long jumper in the 1985 before becoming both a leading Masters and athlete and coach. He is the editor or Ultrafit magazine and has written many books on coaching of all ages. He is also the coach to the 2013 European Junior Long Jump champion. With Momentum Sports he runs, with Pat Logan, our junior sprints squad, who are starting to achieve some great results across the board.
Pat Logan
Again, Pat is both an athlete and a coach. He is the M50 World Champion at both 100m and 200m as well as many other medals in masters athletics over the years. He also has many years of coaching experience and coaches sprint with John Shepherd for Momentum Sports.
Nicky Atkins
Started running in 2000, after training for a 5K fun run and has never looked back. She is a key member of Kingston AC and Polytechnic Harriers competing on the track from 800 to 10000m. She also competes over cross country and on the road up to marathon distance and has competed at the top level as a Masters athlete in the UK. She holds a UKA level 2 endurance coaching licence and as well as coaching online has a group of "more mature" athletes at Kingston & Polytechnic who compete over the longer distances.
Richard Vassall
Another athlete turned coach, Richard ran under 3.50 for 1500m in his day and brings this experience to our novice juniors, who have progressed beyond the Kestrel Club at Kingston and Poly. His small and dedicated group show what can be achieved by application with an experienced coach in a relaxed and fun atmosphere.
Other Coaches
As well as the dedcated groups above, we have many other coaches and people to thank - who have either coached in the past with us or help with the running of the Kestrel Club or other aspects of the website. Thanks to one and all.
Chris Hall
Chris is one of the most experienced athletes at Kingston & Poly AC (with 200m Pb of 22.25) and is also a fully qualified coach who has been coaching both our online athletes and Kestrel Club (youngsters) for several years. He also takes quite a few of our 1-2-1 sessions with athletes and has helped many to improve their running technique.
Gill Broderick
As a qualified school teacher and athletics coach, Gill is perfectly placed to run much of what goes on at the Kestrel Club for the youngsters in Kingston. After a long career as both a runner and race walker, coaching was a natural step and she specialises in helping novice athletes take their first step in athletics as well as coaching throwers later in their teenage years. The Kestrel Clubs was started with just 2 children back in July 2009 and by September 2012 has helped around 500 children with a great introduction to athletics.
Mary Dimbleby
Mary was an athlete in the past and now has two successful daughters who compete. She got back into athletes through them, but is now building a reputation as an effective coach in her own right. She assists all the coaches at the track, with a particular leaning towards the sprint events.
Lucy MacAlister
Lucy (formerly Lucy Hasell) is one of the UKs top marathon runners, having run 2 hours 36 minutes back in 2008. She also has a lot of coaching experience from her work at St. Pauls school in Hammersmith and setting many of her own (successful) training plans. Having just had a baby, Lucy is already back running and training hard towards competing again at the very highest level.
Martin Airey
Is one of the UK:Athletics "Achieving Excellence in Coaching" coaches, an accolade which marks him out as one of the top coaching prospects in the country, who we are very pleased to have at Momentum Sports. Formerly a 1.50 / 3.48 - 800/1500m runner, he now coaches a group of quality middle distance runners at Crawley, as well as his coaching commitments here.
Mark Roberts
Is a fully qualified personal trainer who has been helping clients for 15 years. He is also a conditioning coach for Harlequins Rugby Club.
Formerly a rugby player himself, with Rosslyn Park and Harlequins, Mark is now a decathlete of some distinction, having got the silver medal in the 2003 Southern Championships, as well as winning the Surrey Championships on several occasions.
Mark's other interests include any activity outdoors from rock climbing to surfing, giving him a great understanding of various activities and the ability to tailor anyone's training sessions to their specific sport or hobby.
Owen Lewis
Has both a degree in Sports Science and a masters in Sports Psychology. He has used both to progress his career as a National League Basketball player and also to help others train their minds to accompany the their physical training.
Now back in the UK after a stint coaching basketball in America, Owen has coached Kingston Ladies basketball team and trains as a 400m runner. He has also trained to be a sports masseur and is now working in the Derbyshire area, using all his skills to help sports people.
Humphrey Waddington
Is the current Kingston & Polytechnic Men's Team Captain, former President of the Cambridge University Athletics Club, and a top notch triple and long jumper to boot. He is hugely experienced having been involved in athletics for about 15 years and is also a qualified coach.
Liam Bulson
Liam has been a member of the successful Blackheath Harriers team since 1985. He competes both on the track (at distances ranging from 800m to 5000m) and over the country. He has trained over the years with athletes at all levels.
Linda Staines
One of Britainís top international 400m runners over the last 20 years, mainly under her maiden name of Keough. As well as being an athlete she is a fully qualified fitness instructor and sports masseur.
Gary Staines
Gary has been one of the top UK distance runners of the last 15 years, having gradually moved up from 1500m to the marathon. His greatest achievement probably came in when he won a silver medal in the 5000m at the European Championships.
Nicky Mills
Nicky is a former Welsh Schools 300m hurdles champion and a Personal Trainer. She has many personal training qualifications and is a founding member of the B'motiv8'd! personal training company which operates in the Manchester area.
Keith Holt
Keith is not an athlete, but an avid mountain biker, He now owns a mountain bike holiday company in Austria - UpandDownhill.com. Keith coded the original Momentum Sports website.
Fiona Holt
Fiona has helped with the design of the Momentum Sports logo and website and also provided a lot of help with the running of the company. She is also an accomplished portrait artist, whose website is at www.theportraitplace.co.uk.
In addition to this, we'd like to thank all the coaches who have helped coach the Kestrel Club over the years. Thanks guys you've been fantastic.
Finally, we have to thank all the athletes who have been involved with Momentum Sports over the years. Unbelieveable as it may seem, we've helped over 1000 athletes in the 13 years we've been running, with over 300 still with us. It's been a fun journey, which still has a long way to go!